The Best Easy Fudge Recipe Ever
My Easy Fudge Recipe is SO creamy, soft, and rich…everything fudge should be! The chocolate is a combo of semi-sweet and milk which pair together for the perfect flavor and melt in your mouth texture!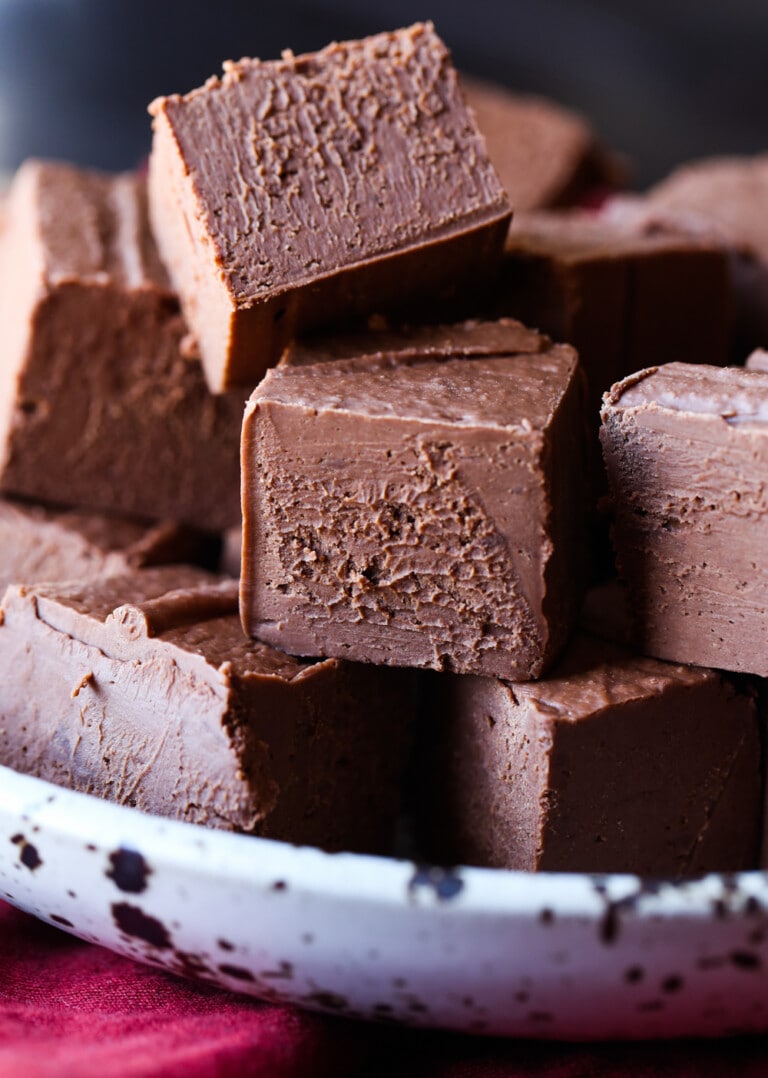 This Is The Best Easy Fudge Recipe
Homemade Fudge is one of those simple treats that I generally don't make except around the holidays. It's a special treat that we sometimes purchase in candy shops or at the mall. But there is nothing like homemade fudge…it's fresher (don't you wonder how long that fudge has been sitting on the shelf in the candy shop?) and it's usually creamier and more chocolatey!
My Chocolate Fudge Recipe Is A Classic!
This old fashioned fudge recipe is super simple, no candy thermometer necessary, and it always turns out perfectly. There are a few simple techniques to making it with the method, which I will explain below. This fudge stays soft, and is the perfect balance of sweet milk chocolate and just enough semi-sweet to amp up the chocolate factor.
Ingredients You Will Need:
room temperature butter
chopped milk chocolate (I like to use Hershey's or Dove)
semi sweet chocolate (use a nice quality here, like Guittard or Ghirardelli)
Marshmallow Creme (or Fluff)
granulated sugar
evaporated milk
pinch of salt
How To Make The Best Fudge:
Line a  9×13 pan with parchment paper. You can also use foil or just grease the pan without it. I use parchment because it makes taking the fudge out to cut easiest!
In a large bowl, heat-safe bowl combine the butter, milk chocolate, semi-sweet chocolate, and marshmallow cream mixing as well as you can with a wooden spoon or rubber spatula. It's not necessary to mix this completely.
In a large saucepan over medium heat stir together the granulated sugar, evaporated milk, and pinch of salt and bring the mixture to a rolling boil, and boil for 4 minutes, stirring very frequently. Make sure to use a deep pan, as the mixture will bubble up and expand.
Pour the hot sugar mixture gradually or in increments into the chocolate mixture. This is the trick of my fudge and why it never gets grainy. Since you don't heat the chocolate on its own, you never have the chance to scald or separate the chocolate.
Once everything is melted and smooth, pour this right into the prepared pan. If you are adding any mix-ins, add those right before you pour the mixture into the pan. Alternately you can press the mix-ins into the top instead of directly into the warm fudge.
Cover the pan tightly and allow the fudge to set up completely before cutting into squares. At room temperature it will take several hours or overnight for the fudge to set up. Alternately you can place the pan in the refrigerator to set up more quickly.
Variations:
There are tons of ways you can make this fudge unique! Here are a few ideas of mix-ins:
Nuts. Pecans or walnuts are a great option. I like walnuts a little more than pecans, only because they are slightly softer and I prefer that texture in fudge!
Candy. Most chopped candy will work great in the this recipe, but I like peanut butter cups, Snickers, Peppermint Patties, or even M&M'S!
Egg Free Cookie Dough. This is a super fun option if you want to really make a statement with your fudge! Try my Edible Cookie Dough that is both egg-free and has heat treated flour so it's totally safe!
Oreos. Chopping up Oreo cookies or even Nutter Butters or Chips Ahoy is a fun way to add extra flavor!
Can You Freeze Fudge?
A super common question is, "Can Homemade Fudge Be Frozen?" And the answer is yes absolutely! I will say though, I usually never recommend freezing sweets/baked goods for longer than 30 days for best freshness, and fudge will last just about that long in the refrigerator as well!
How To Store Fudge :
So beyond freezing and refrigerating, fudge can absolutely be stored at room temperature for up to 2 weeks. Just make sure it's airtight so it doesn't dry out.