The Best Cheesecake Brownies – Two Easy Desserts in One!
Can't decide whether to have cheesecake or brownies? Why not both! These Cheesecake Brownies have a layer of creamy vanilla cheesecake between two fudgy brownie layers. Pure indulgence!
Make sure to try out my Fudgy Brownie Recipe if you're looking for a classic brownie recipe!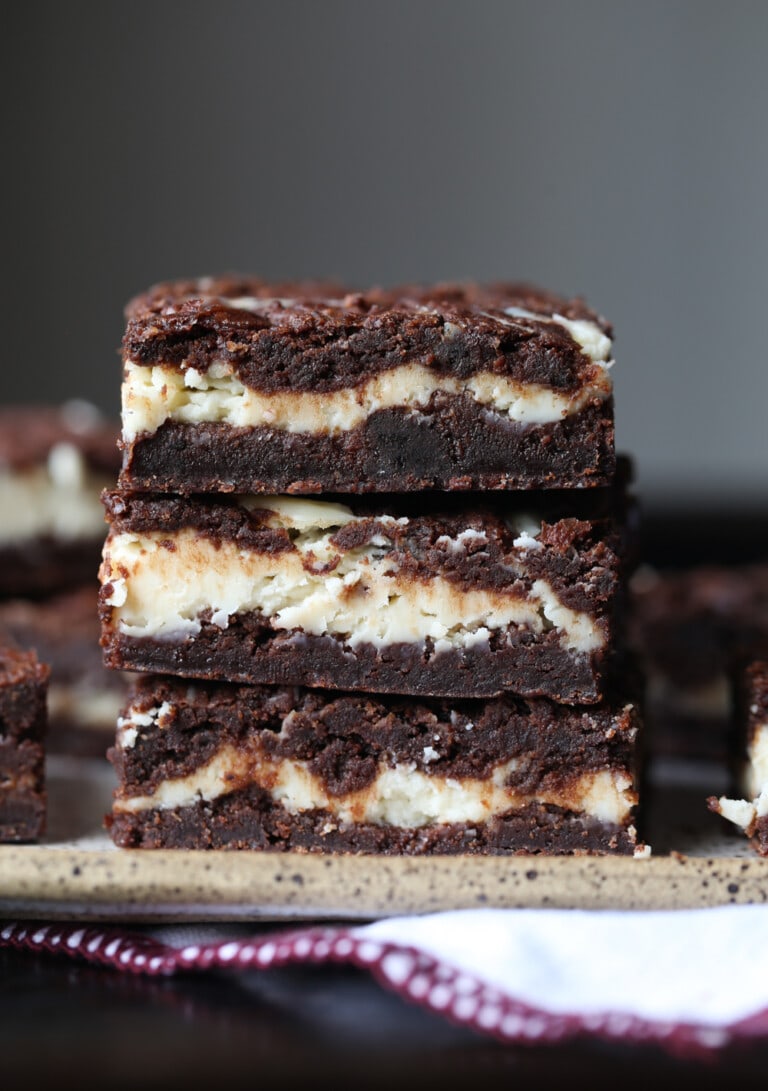 Fudgy Cheesecake Brownies Are Two Desserts In One!
This dessert combines smooth cheesecake and chocolatey brownies into one incredible treat. They're impressively decadent, but they're also really easy to make!
The brownie layers are extremely fudgy, and the cheesecake in the middle adds a touch of tanginess and a whole lot of creaminess. The combination both looks and tastes wonderful. And the best part – you'll never have to choose between cheesecake and brownies again!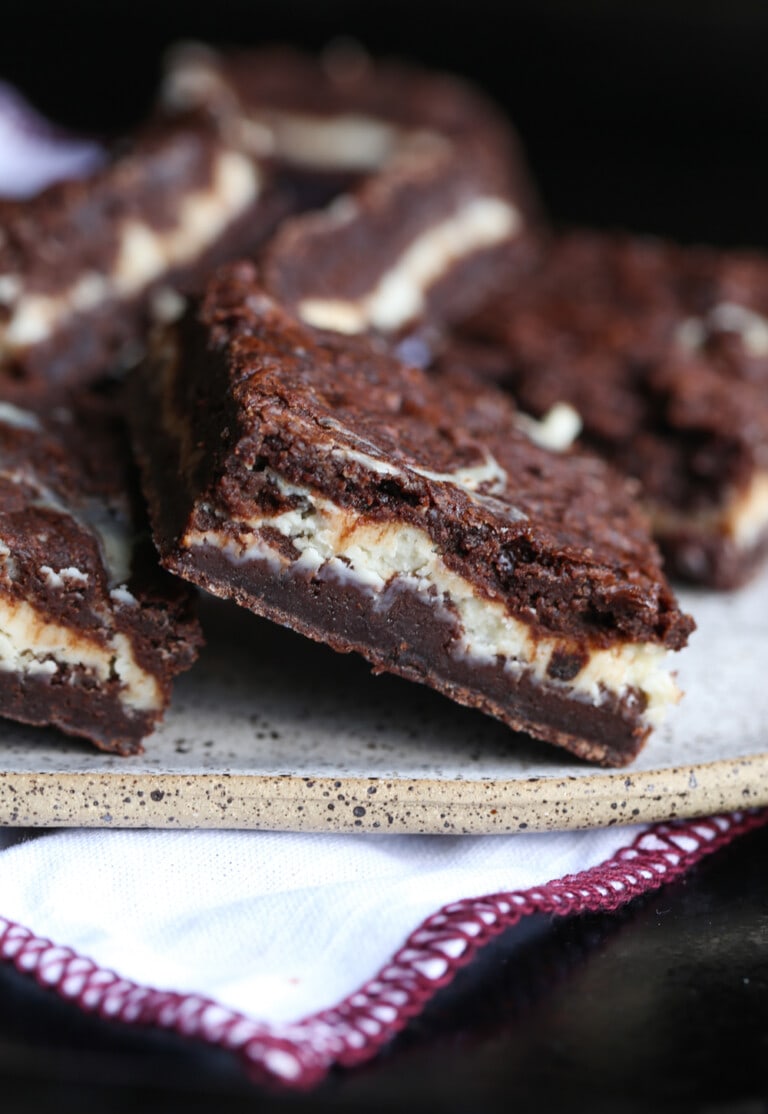 Recipe Ingredients
These cheesecake brownies use basic ingredients that you probably already have, but the brownies are anything but basic. Here's what you'll need to make these heavenly treats:
For the Brownie Layers
Butter
Granulated Sugar
Eggs
Cocoa Powder: Use unsweetened cocoa powder for the richest, chocolatiest brownies.
Baking Powder
Kosher Salt
Vanilla Extract
All-Purpose Flour
For the Cheesecake Layer
Cream Cheese: Bring the cream cheese to room temperature.
Granulated Sugar
Vanilla Extract
Sour Cream: The addition of sour cream makes the cheesecake layer super luscious and creamy!
Eggs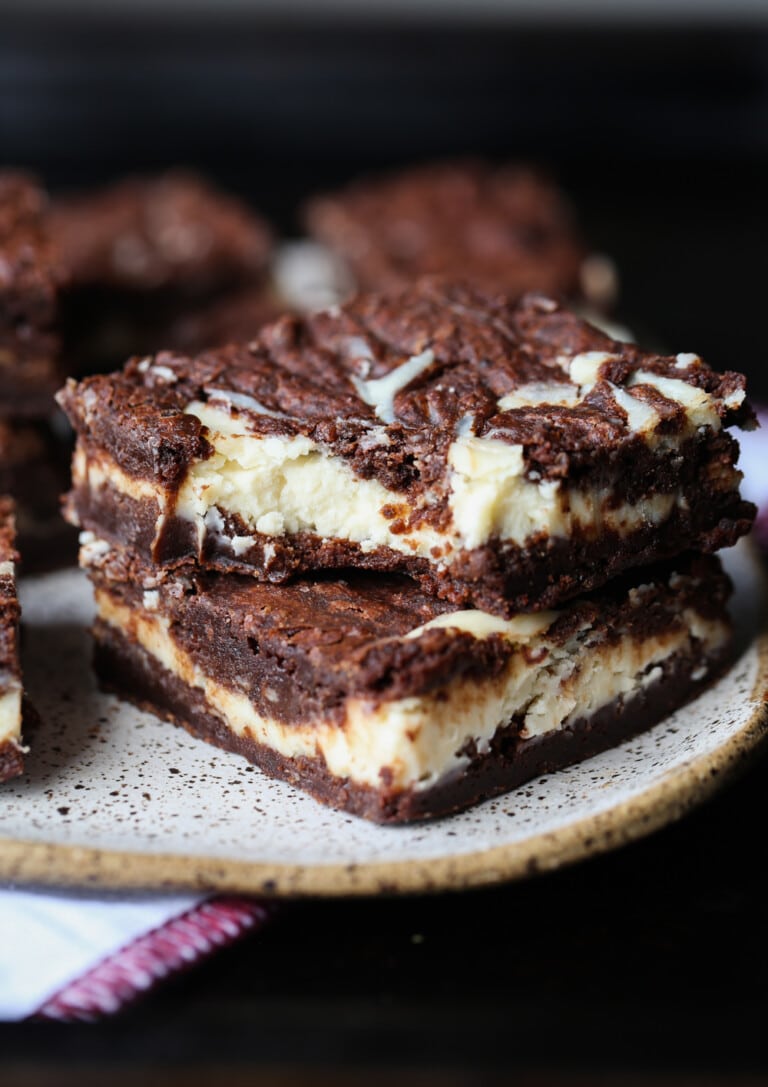 How to Make Cheesecake Brownies
These decadent brownies are definitely beginner-friendly. All you have to do is make the brownie batter, make the cheesecake batter, layer it up and bake!
Make the Brownie Batter
Prepare for Baking: Preheat the oven to 325°F. Line a 9×13 pan with parchment paper, coat it lightly with nonstick spray and set it aside.
Melt Butter: In a large saucepan over medium heat, melt the butter.
Add Sugar: Once the butter is melted, add in 2 cups granulated sugar and stir constantly until the sugar is combined and begins to dissolve and gets shiny, but not bubbly. The temperature should reach 120°F. Remove the pan from the heat.
Whisk Eggs & Dry Ingredients: In a large bowl, whisk together the eggs, cocoa powder, baking powder, salt and vanilla. The mixture will be very thick. Add in the warm butter mixture and continue whisking until it's mostly smooth.
Add Flour: Using rubber spatula or wooden spoon, stir in the flour until combined, about 50 strokes. Set the brownie mixture aside.
Make the Cheesecake Batter
Combine Cream Cheese & Sugar: In the bowl of your stand mixer fitted with the paddle attachment, mix the cream cheese and sugar together on medium speed for 1 minute, until combined and smooth.
Add Remaining Ingredients: Add in the vanilla, sour cream and eggs, and continue mixing for another minute, until smooth, scraping the sides of the bowl as necessary.
Assemble the Brownies!
Layer Brownie & Cheesecake Batter: Spread 2/3 of the brownie batter into the prepared pan. Spoon the cheesecake mixture on top of the brownie batter, and spread it evenly on top. Drop by the spoonful the remainder of the brownie batter on top of the cheesecake layer.
Swirl the Top: Using a butter knife, swirl the brownie batter into the cheesecake mixture.
Bake: Bake for 35-40 minutes, until the top is set. Allow the brownies to cool completely in the pan and then cover and chill in the refrigerator for at least 2 hours.
Cut & Serve: When you're ready to serve, cut the brownies into bars and enjoy!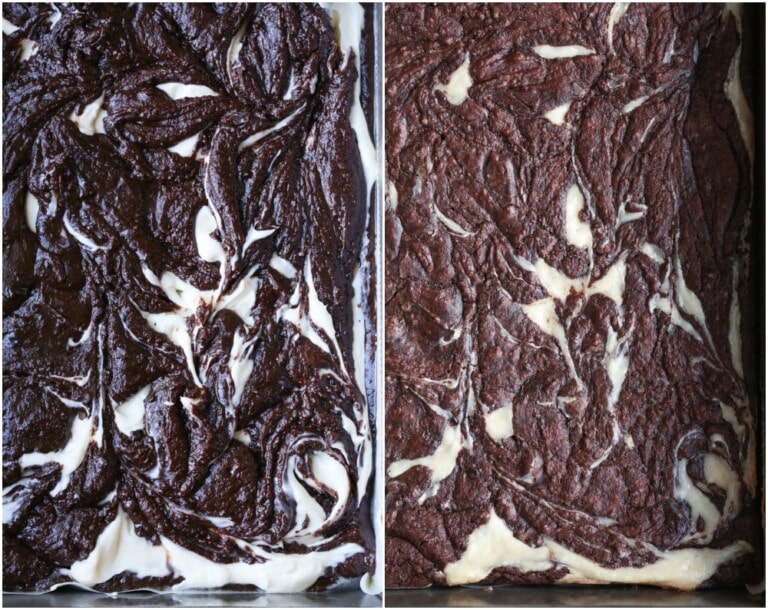 Tips for the Best Cheesecake Brownies
Chill Before Serving: Before you cut and serve your brownies, let them cool completely and set them in the fridge to chill for at least 2 hours. This allows the cheesecake to set up and will make it much easier to cut your brownies.
Bring Cream Cheese to Room Temperature: Make sure your cream cheese has reached room temperature before you start making your cheesecake batter. This will help everything blend together smoothly.
Use High Quality Ingredients: If you use high quality cream cheese and vanilla extract in your cheesecake, you'll end up with the best tasting cheesecake layer ever. High quality cocoa powder will give you the best brownie layers, too.
Don't Over Bake: Be careful not to over bake these cheesecake brownies. Start checking them for doneness at the 35-minute mark. Your brownies are done when a toothpick inserted into the center comes out clean or with a couple loose crumbs.
Serving Ideas
Top with Whipped Cream: To add a light and fancy finishing touch to your brownies, top them with a dollop of whipped cream.
Serve with Ice Cream: Try pairing your cheesecake brownie with a scoop of my easy 2-ingredient Vanilla Ice Cream.
Add Caramel: Top your brownies with a drizzle of this Quick and Easy Homemade Caramel Sauce.
Add Chocolate Chips: To make these brownies even more chocolatey, try adding chocolate chips into the brownie batter.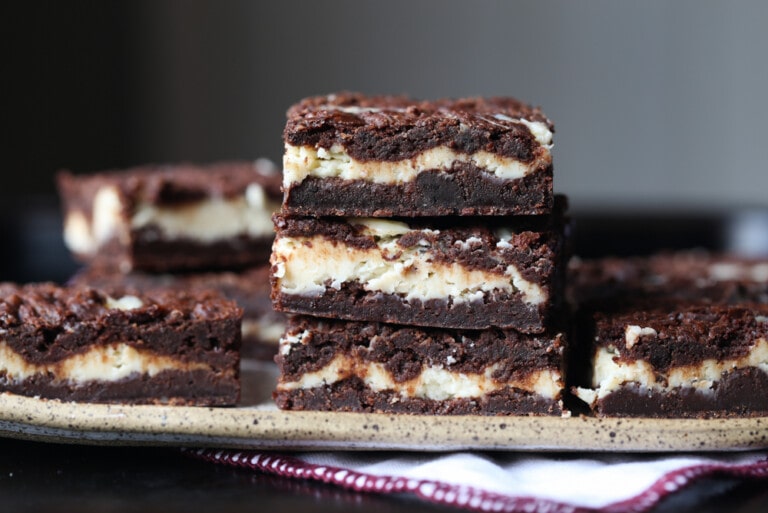 How to Store Homemade Brownies
These brownies should be stored in an airtight container in the fridge. They're best if eaten within 3 days. You can enjoy your brownies cold or warm them up for a few seconds in the microwave.
Can You Freeze Cheesecake Brownies?
Want to save your brownies for a rainy day? You can store them in an airtight container in the freezer to make them last longer. Frozen brownies will stay fresh for about a month. Just thaw them overnight in the fridge before serving.