My Italian Cream Cake Recipe is incredibly fluffy, perfectly sweet, loaded with pecans and shredded coconut and topped with a creamy whipped cream cheese frosting. This is a classic!!
If you like Italian Cream Cake make sure to try my Coconut Cake and Hummingbird Cake recipes too!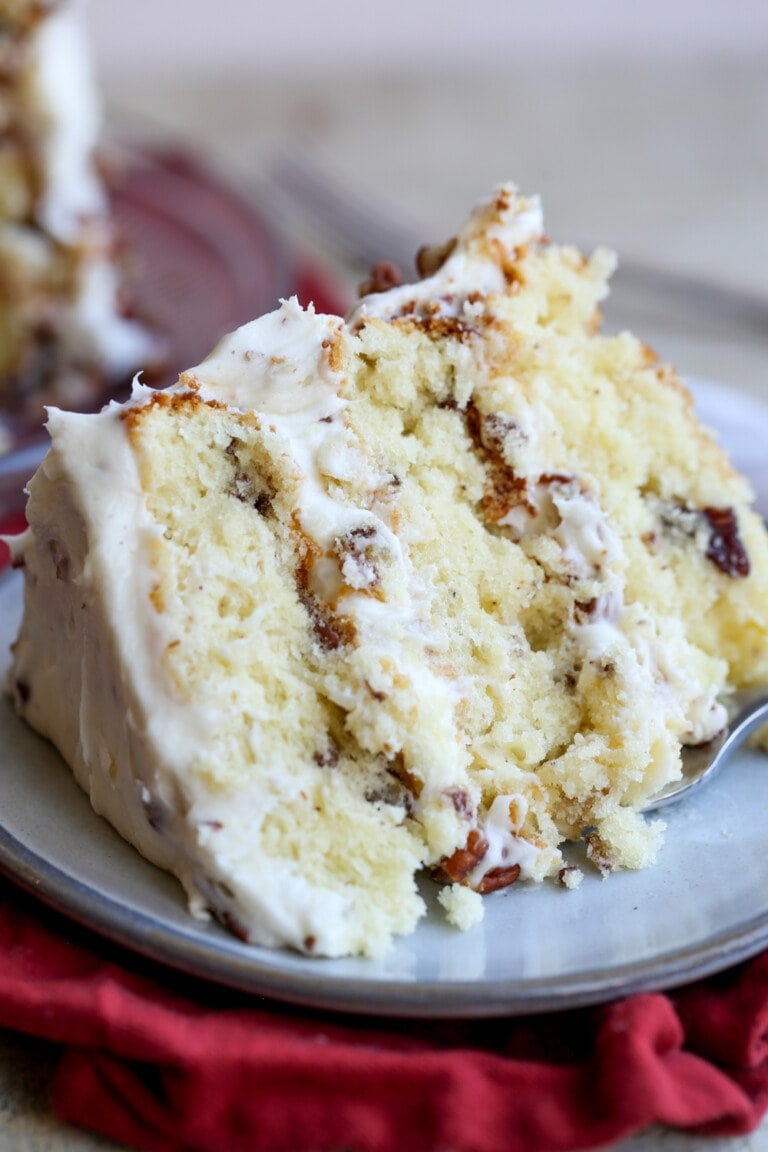 Italian Cream Cake Is Most Requested Cake Recipe!
My Italian Cream Cake is a delicious, classic cake recipe that only unfortunately seems to only make an appearance at the holidays! I'm not so sure why that is, but it really should be an all-year-long recipe! I use a combination of vegetable oil and butter to give great flavor, but also a lighter texture, as well as cake flour and buttermilk to lighten the crumb. All that paired with folding in whipped egg whites makes this the softest, moistest cake recipe ever.
What Is Italian Cream Cake?
Italian Cream cake is a vanilla cake with coconut and pecans baked in, topped with either a whipped cream frosting, or a cream cheese frosting. I prefer the cream cheese frosting, which is what I use in my recipe. In all the Italian Cream Cakes that I have ever had there has been a slight flavor of almond extract, or even in some cases an amaretto flavor added. I don't prefer an overpowering almond flavor, just a subtle enhancement that pairs well with the pecans. You can add more or less as you prefer.
You can make variations to this cake recipe very easily, like leaving out the coconut, or using a different type of nut like a walnut. But note, it won't necessarily be Italian Cream Cake anymore.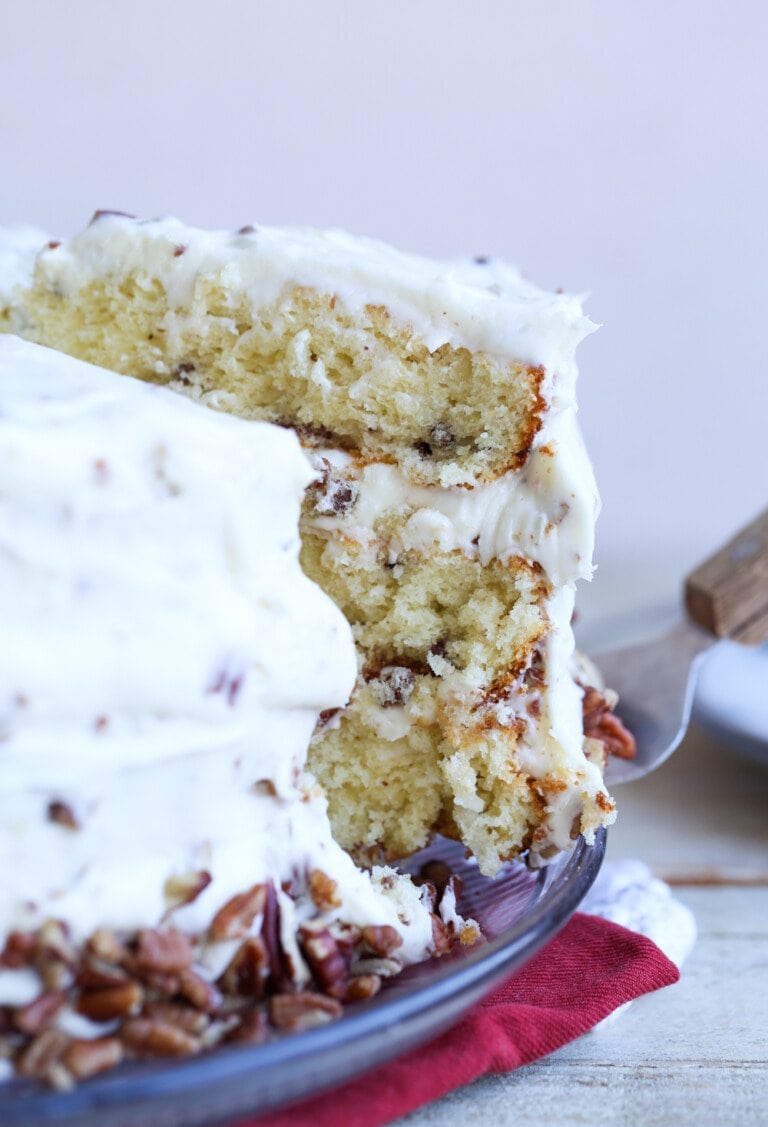 Italian Cream Cake Ingredients:
vegetable oil
butter
granulated sugar
eggs at room temperature: egg whites at room temperature will whip better than cold egg whites, and since you separate the eggs in this recipe and fold in the whipped egg whites for lightness this is important.
almond extract
vanilla extract
baking powder
baking soda
kosher salt
cake flour
buttermilk
sweetened flaked coconut
chopped pecans
cream of tartar ( to stabilize the egg whites)
Cream Cheese Frosting Ingredients:
cream cheese
butter
powdered sugar
vanilla extract
almond extract
chopped pecans
Do You Have To Use Cream Cheese Frosting?
Nope! If you just aren't a cream cheese fan you can absolutely use another frosting. Here are a few options:
Don't Like Coconut?
I am sure I will get questions about coconut in this recipe, as it seems to be an ingredient people love or hate. And the answer before you ask is yes, you can omit the coconut.
Is Almond Extract A Must?
No it isn't a must, but try it! Just start with a tiny amount and add more. It adds a really nice element to this cake that pairs well with the pecans, and makes it not just another vanilla cake!
How To Decorate:
This is a 3 layer cake, and you can obviously frost it like I have done in the pictures, and do a simple garnish with chopped pecans at the base. But here are a few other ideas:
Leave the side of the cake unfrosted, as a "naked" cake. I think this is a super pretty and rustic way to frost a cake!
Pipe swirls onto the top or around the edges to give it more of a fancy look!
Decorate the tops and/or sides with pecan halves instead of chopped. You can make some pretty designs that way!
How To Store…
Since this cake has cream cheese frosting it is best to store this airtight in the refrigerator. I actually don't like cold cake, though, so I like to allow it to come up to room temperature before serving. BUT I will say if you cut this cake while its cold you will get the prettiest slices.