Homemade Marshmallows Recipe
These Fluffy Homemade Marshmallows are better than any you can find in a store! They're perfect for s'mores, adding to hot chocolate, putting in desserts or just eating by themselves! (And trust me, you will want to eat these on their own!)
If you love marshmallow, make sure to check out my Gingerbread Marshmallow Fluff Recipe! A dollop of this in hot chocolate would be next level!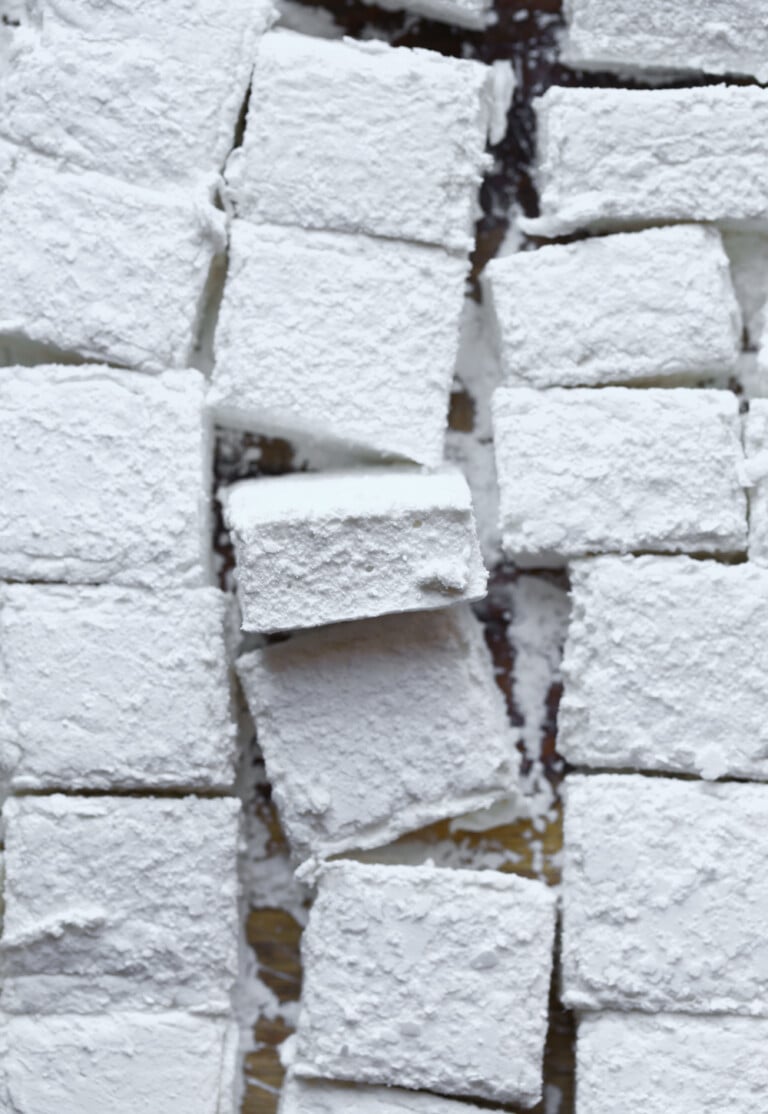 Easy Homemade Marshmallows!
I don't think enough people make homemade marshmallows – they are SO MUCH BETTER than store-bought ones! And they're also super easy to make with just 7 ingredients. These marshmallows melt perfectly, and they have a much better flavor and texture than your average marshmallow.
The hardest part about making these marshmallows is waiting for them to set. But just be patient – I promise the wait is well worth it! These soft, fluffy, melt-in-your-mouth treats are not to be missed.
Why Make Marshmallows from Scratch?
I think the better question is, why wouldn't you make marshmallows from scratch?
I can't explain in words how much better marshmallows taste when they're homemade. And the texture is out of this world. I don't know what is better, the powdery sugar coating or the fluffy marshmallow insides.
If you have only ever had a store-bought marshmallow you are MISSING OUT. There, I said it. In all caps.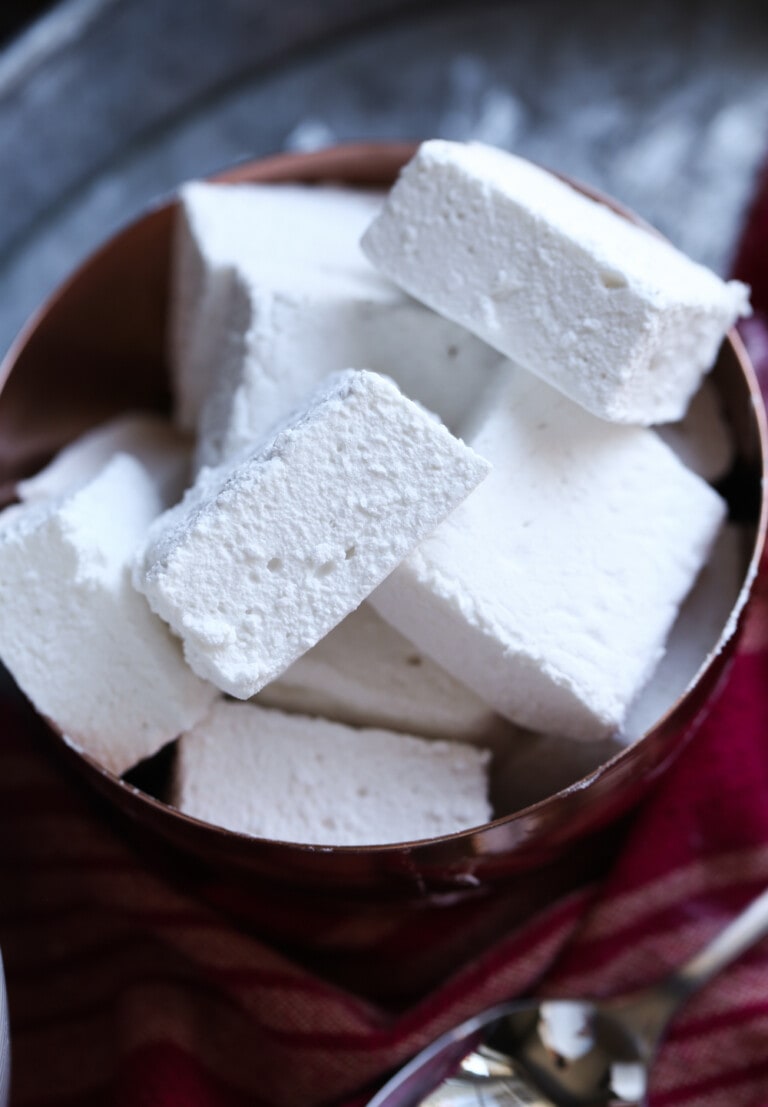 What Are Marshmallows Made Of?
Ever wondered what ingredients go into marshmallows? All you need are a few packets of gelatin and some other kitchen staples.
Unflavored Gelatin
Water: Make sure you use room temperature water.
Granulated Sugar
Light Corn Syrup
Kosher Salt
Vanilla Extract
Powdered Sugar: You'll need to dust your pan and your finished marshmallows with powdered sugar.
Do Marshmallows Contain Marshmallow?
No, not any more. Way back in the day marshmallows were made with the root of the mallow plant, which grows in marshes.
In the mid-1800s French chefs would whip that sap from the mallow root with egg whites and sugar to make a fluffy candy. However, the process was time consuming so eventually the mallow sap was replaced with gelatin.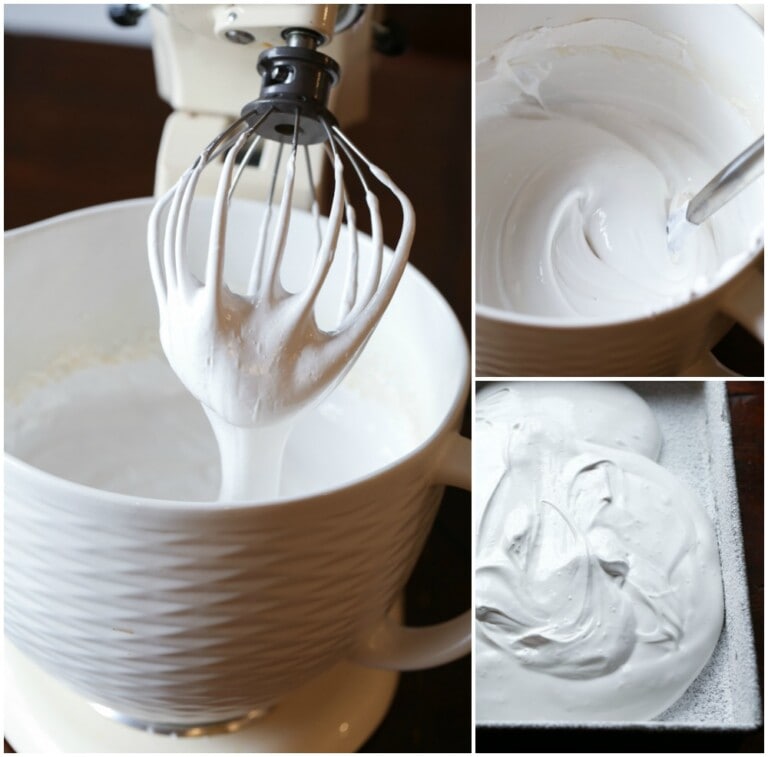 How to Make Marshmallows
It may seem like marshmallows would be difficult to make from scratch, but luckily that's not the case at all. In fact, they're super simple!
Mix Gelatin & Water: Combine the gelatin and 1/2 cup of water in the bowl of your stand mixer fitted with the whisk attachment. Let this mixture sit while you make your sugar syrup. The gelatin will dissolve and become thick.
Make Sugar Syrup: In a medium saucepan over medium heat, combine the sugar, corn syrup, salt and remaining 1/2 cup water. Stir constantly until the sugar dissolves, then increase the heat to medium-high. Allow the mixture to cook without stirring until it reaches 240°F on a candy thermometer. Remove the pan from the heat.
Combine & Beat: Turn your stand mixer onto low speed and slowly pour the sugar syrup into the dissolved gelatin. When combined, increase the mixer speed to high and beat until very thick, about 15 minutes.
Complete Marshmallow Mixture: Add in the vanilla extract and mix to combine, scraping the sides of the bowl as necessary.
Assemble in Baking Dish: Generously dust a 9×13 baking dish with powdered sugar. Pour the marshmallow mixture into the prepared pan and dust with more powdered sugar.
Let Set: Allow the marshmallows to sit, uncovered, for 6 hours or overnight at room temperature until firm and set.
Cut & Serve: When ready to slice, invert the pan onto a cutting board to release the marshmallows. Dust them with a little more powdered sugar to aid with the cutting process, as the insides will be sticky. Toss the cut marshmallows again in powdered sugar and store, airtight, at room temperature.
Tips for Success
Use a Sieve for Easy Pouring: When you pour the marshmallow mixture into the pan, I recommend doing it through a sieve. This will simplify the process and prevent clumping.
Don't Stir Sugar Syrup: Be very careful not to move the thermometer around too much while your sugar syrup is cooking over medium-high heat. Any stirring could cause the mixture to crystallize.
Use Powdered Sugar Generously: The powdered sugar will keep your marshmallows from being too sticky on the outsides.
Do Not Refrigerate: Don't store homemade marshmallows in the fridge! They will harden and get extremely sticky as they come to room temperature.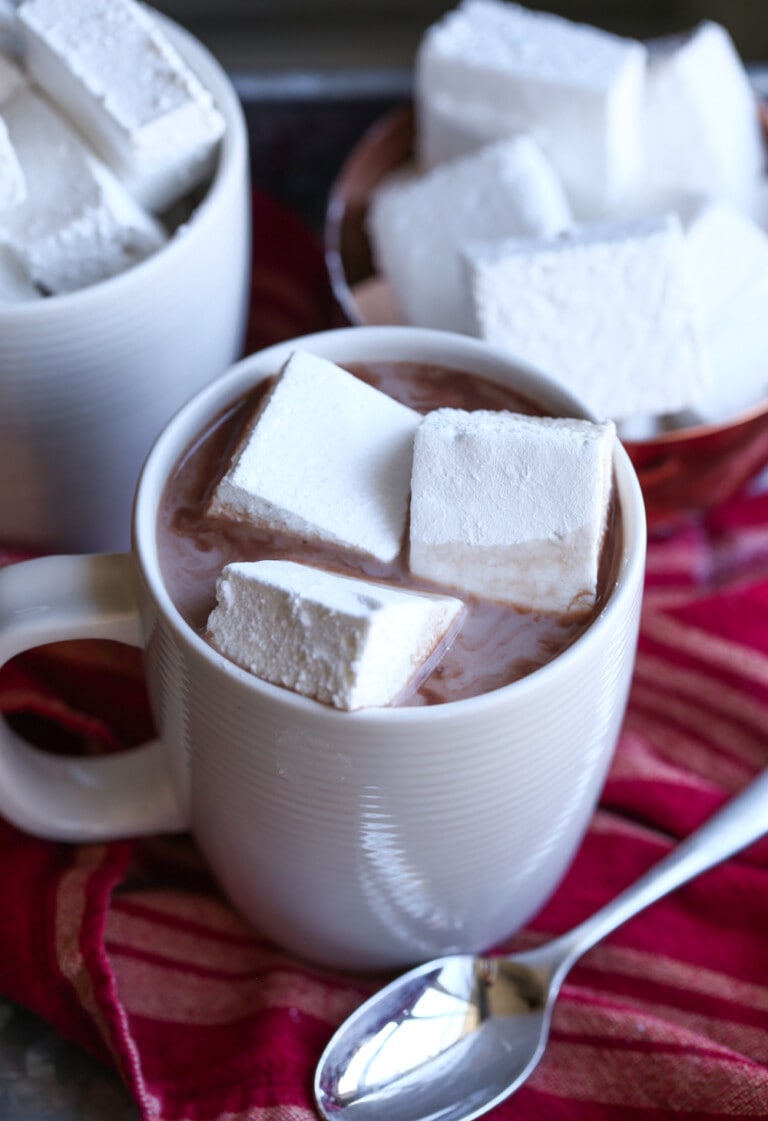 Ideas On What To Do With Your Marshmallows!
Add to Hot Cocoa: Everyone loves a cup of hot chocolate with warm, melty marshmallows floating on top.
Make Marshmallow Brownies: These fudgy Marshmallow Brownies are so heavenly! You can't beat a batch of brownies filled with gooey homemade marshmallows.
Dip in Chocolate: Want a low-effort treat to satisfy your sweet tooth? Try sticking toothpicks into your marshmallows and dipping them in melted chocolate. You can even add oreo crumbs or sprinkles!
Make S'mores: You can never go wrong with a classic campfire s'more. Especially when it's made with a homemade marshmallow!
How to Store Homemade Marshmallows
Store your marshmallows in an airtight container at room temperature and enjoy them within a week. You don't want to put these in the fridge or freezer. If they get cold, they'll get hard, and they'll become very sticky as they warm back up.