Homemade Almond Roca Recipe
This 4-ingredient Almond Roca recipe is made with chocolate, roasted almonds and a buttery homemade toffee! It's perfect for snacking and holiday gifting.
If you love this flavor combo make sure to check out my Almond Roca Cookie Recipe too!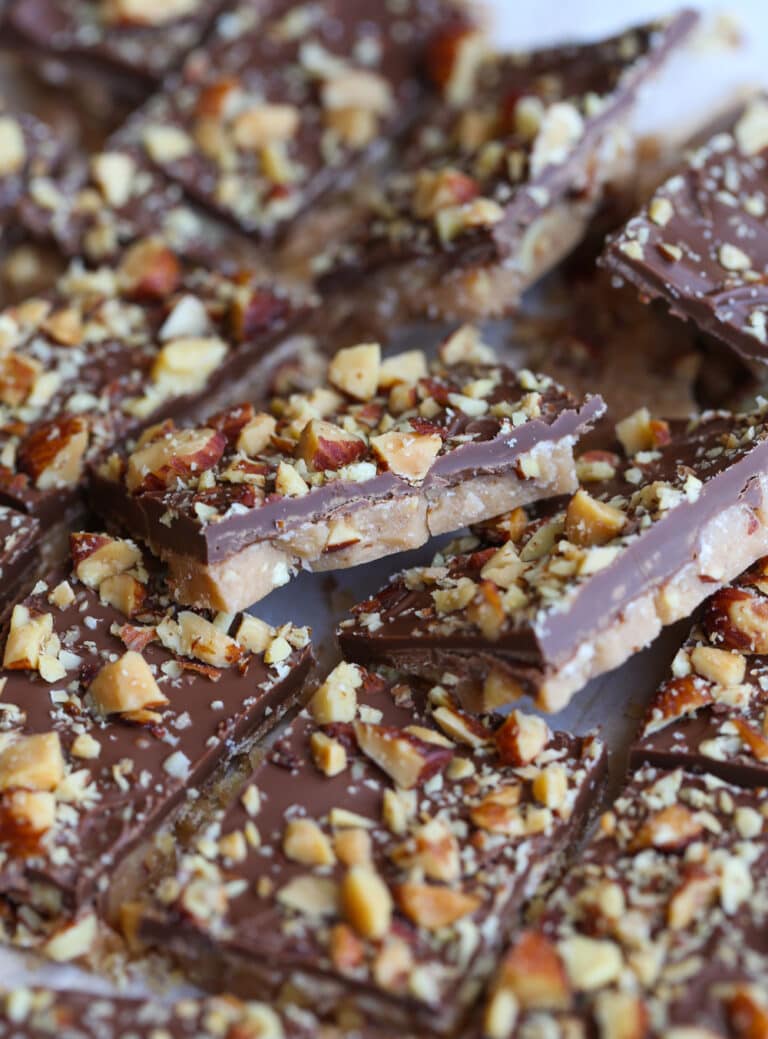 The Is the Best Almond Roca Candy!
This sweet almond roca has the perfect balance of creamy chocolate and crunchy toffee. It's an easy homemade dessert that will save your life this holiday season! Almond roca makes a great gift, even if you have to mail it across the country.
If you don't like almonds, don't worry. This candy can be made with cashews, peanuts, or any other nut you prefer. You won't find an easier dessert that looks and tastes this good!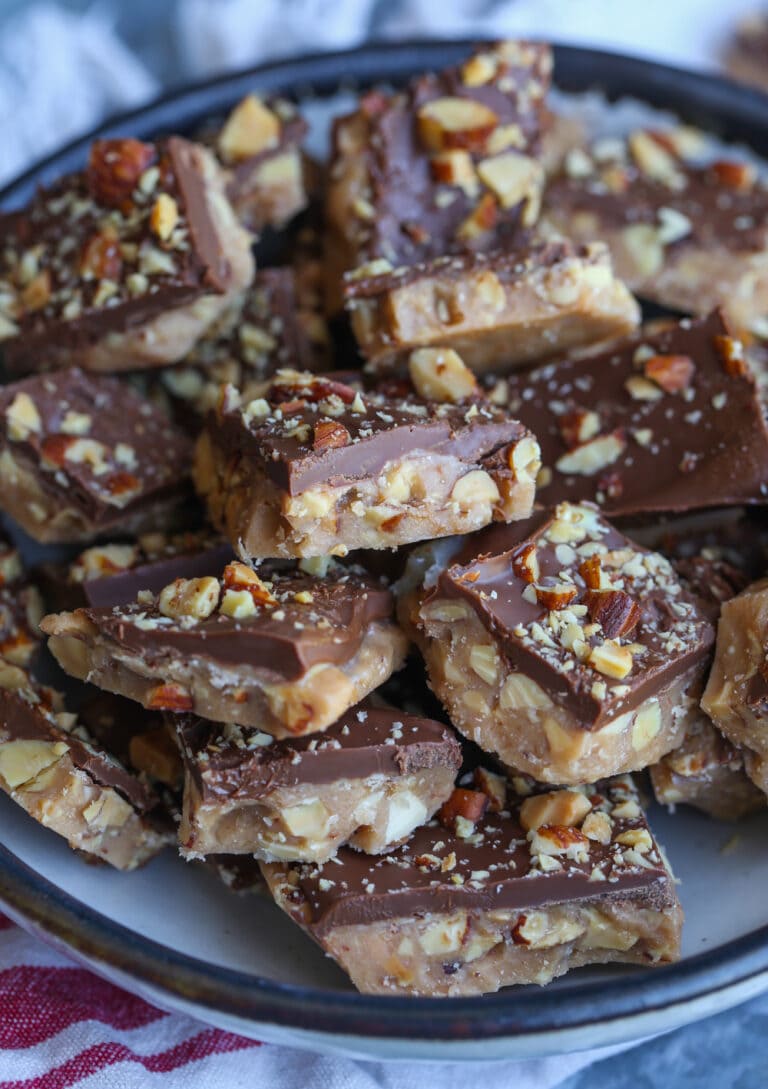 What is Almond Roca?
Almond roca is a nutty, crunchy treat that's made with chocolate and toffee or caramel. Also known as English toffee, it's packed with flavor even though it uses minimal ingredients. This dessert is quick and easy to make, but it'll stay fresh for weeks!
Recipe Ingredients
Granulated Sugar
Salted Butter
Roasted & Salted Almonds: Finely chop or sliver your almonds.
Milk Chocolate: You can use chocolate chips, Hershey bars, candy melts, etc.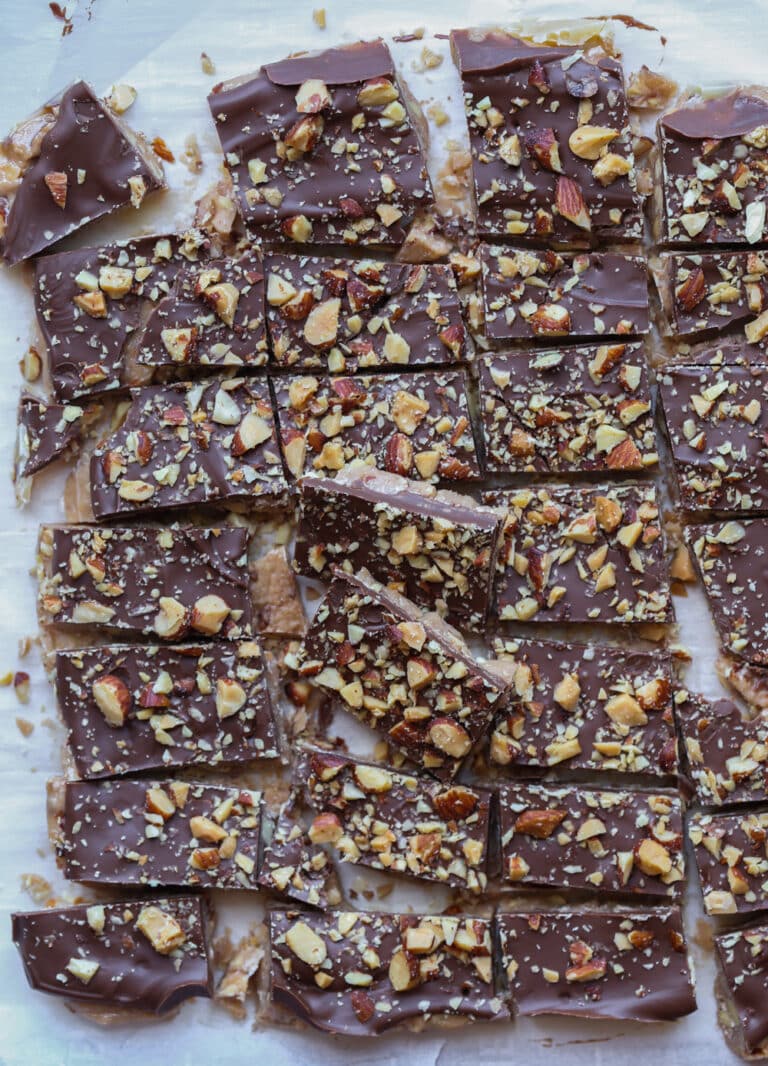 How to Make Almond Roca
Line Baking Sheet: Line a 9×9 baking dish with parchment paper. Set aside.
Make Toffee: In a heavy saucepan, melt the sugar and butter together on medium heat. Stirring constantly, bring the mixture to a boil. Continue boiling and stirring until it reaches 290°F on a candy thermometer, about 12 minutes.
Add Almonds: Remove the pan from the heat and immediately stir in 1/2-cup of the almonds.
Pour into Pan: Pour the mixture into your prepared pan and spread it out evenly. If you notice that there's too much butter pooling, use a paper towel to blot it up.
Add Chocolate: Sprinkle the chocolate evenly on top and allow it to sit for 1 minute to melt. Using an off-set spatula, spread the chocolate evenly on top of the candy.
Add Remaining Almonds: Sprinkle the remaining almonds onto the melted chocolate.
Let Cool: Cool your almond roca completely and then break it into pieces. Alternatively, you can place it in the refrigerator to chill more quickly.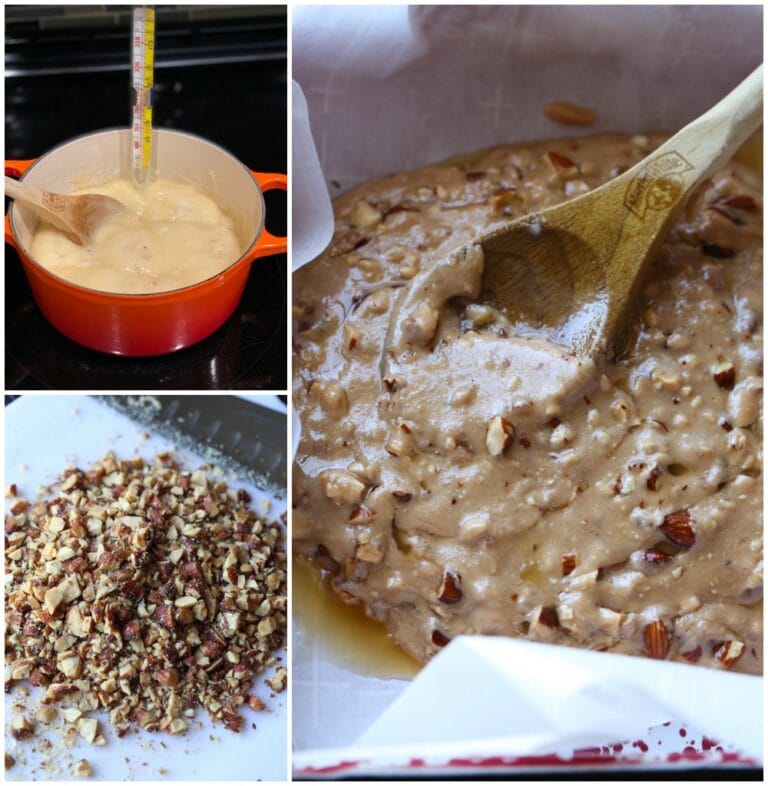 Tips for Success
Don't Increase Heat: Be careful not to adjust the heat up while making your toffee. This will cause the butter and sugar to separate, which can cause pools of excess butter on the finished toffee, preventing the chocolate from adhering.
Add Baking Soda if Needed: If the butter and sugar still separate, add in a pinch of baking soda when you take your toffee off the heat and stir to combine. This will help make it cohesive.
Blot Away Excess Butter: You can also soak up any excess butter with a paper towel if you notice it pooling before you add the chocolate, which is what I do most often.
Chill in the Fridge: If you're impatient like I am, let your almond roca cool in the fridge so it's ready sooner!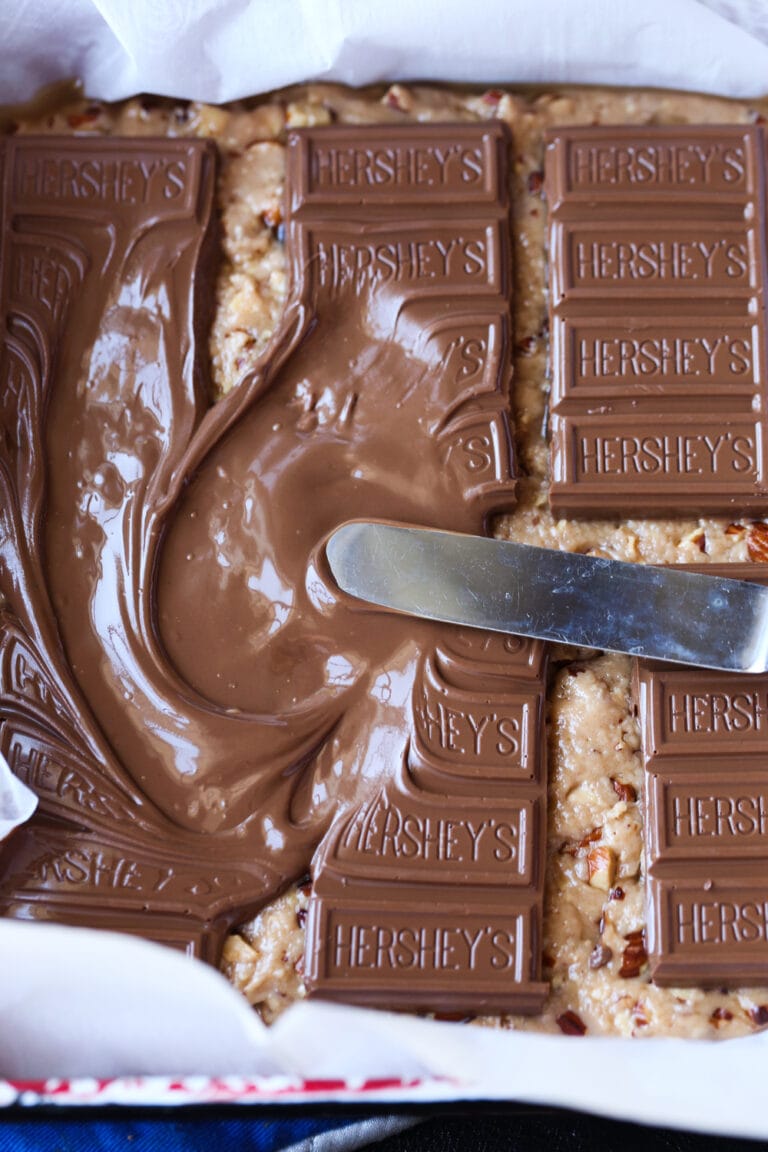 How to Store Homemade Candy
Store your almond roca in an airtight conatiner at room temperature. It will stay good for up to 2 weeks!
If desired, you can wrap your candy pieces in parchment paper and freeze them in a sealed container to make them last longer. Thaw them out in the fridge or at room temperature and enjoy within 6 months.
How to Pack Candy for Shipping
If you want to ship your homemade candy to a loved one, pack it into a sturdy container. It can be a mason jar, a cookie tin or a plastic case. This will prevent your almond roca from getting too crushed up in transit.