This quick and easy Divinity Candy recipe is perfect for gifting! Sweet, chewy, and easily customizable, these old-fashioned sweets come together with just 6 ingredients!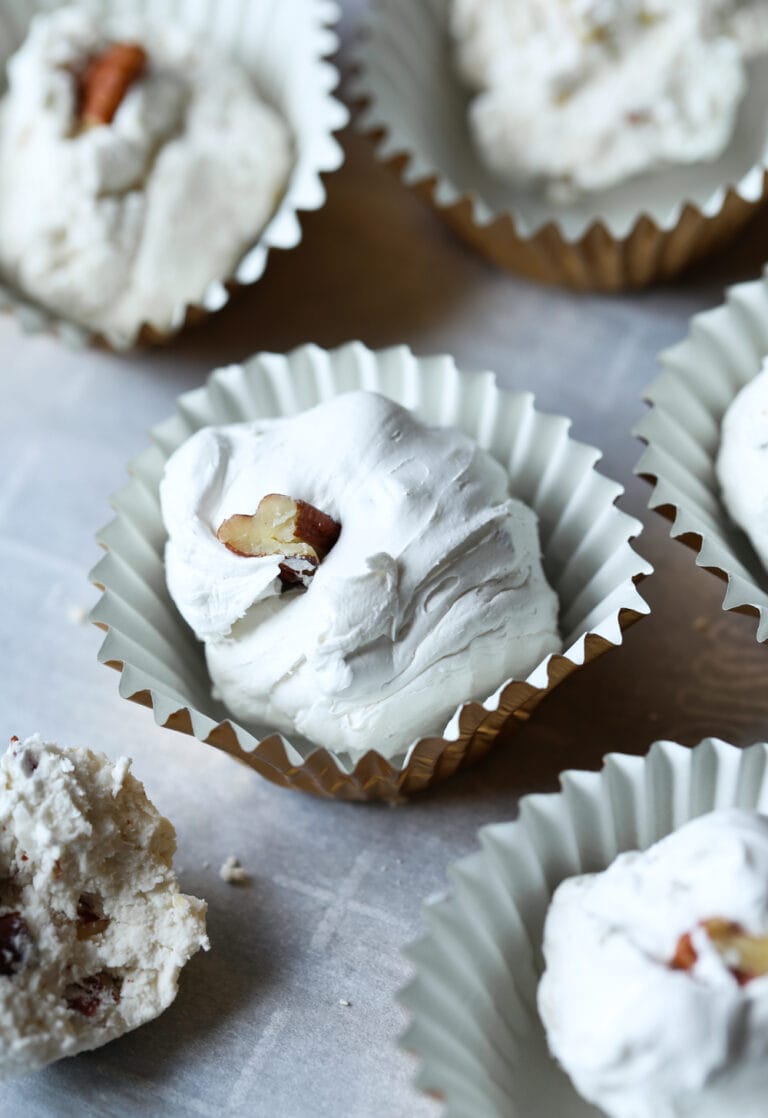 This Is An Easy Divinity Candy Recipe!
I absolutely love this homemade candy recipe – it's super low-effort and it makes 40 pieces of candy with just a few ingredients. Divinity candy is a classic holiday treat, but it's also great for general snacking!
There are tons of different ingredients you can use in this recipe to create your ideal piece of candy. It's easy to customize with flavor variations and add-in combinations. Divinity candy is about to become your new go-to dessert!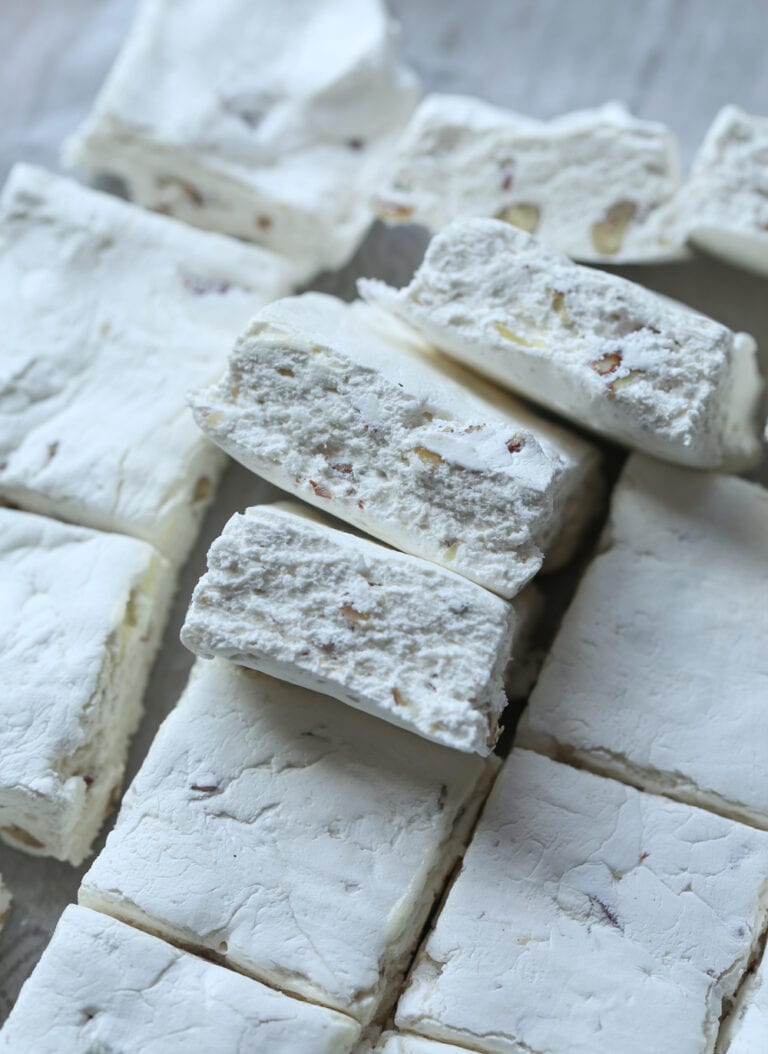 What is Divinity Candy?
Divinity candy is a fluffy, fudge-like candy made with whipped egg whites. It cooks in minutes on the stove and sets at room temperature. Divinity candy is traditionally made with pecans, but you can make it with any other nut, dried fruit or add-in of your choice.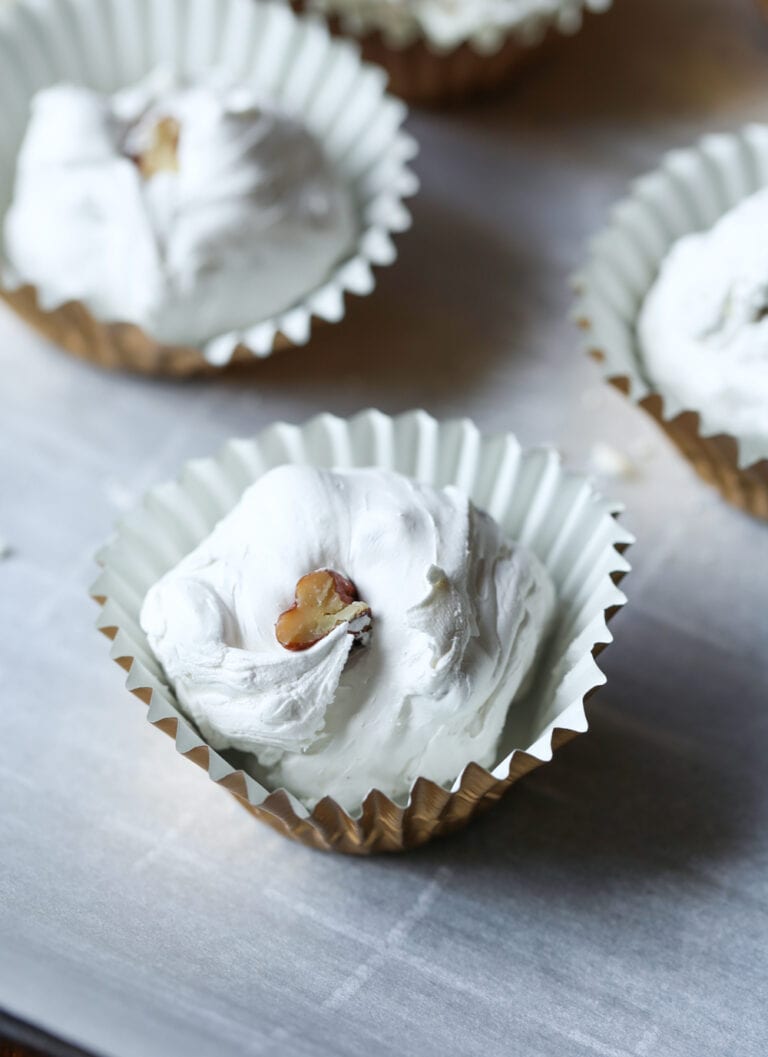 Recipe Ingredients
You only need a few simple ingredients to make this homemade candy. It's a great starter recipe for anyone who hasn't made candy before!
Egg Whites: Bring your egg whites to room temperature.
Granulated Sugar
Light Corn Syrup
Water
Vanilla Extract
Chopped Pecans: You could also use another chopped nut, toasted coconut, dried fruit, etc.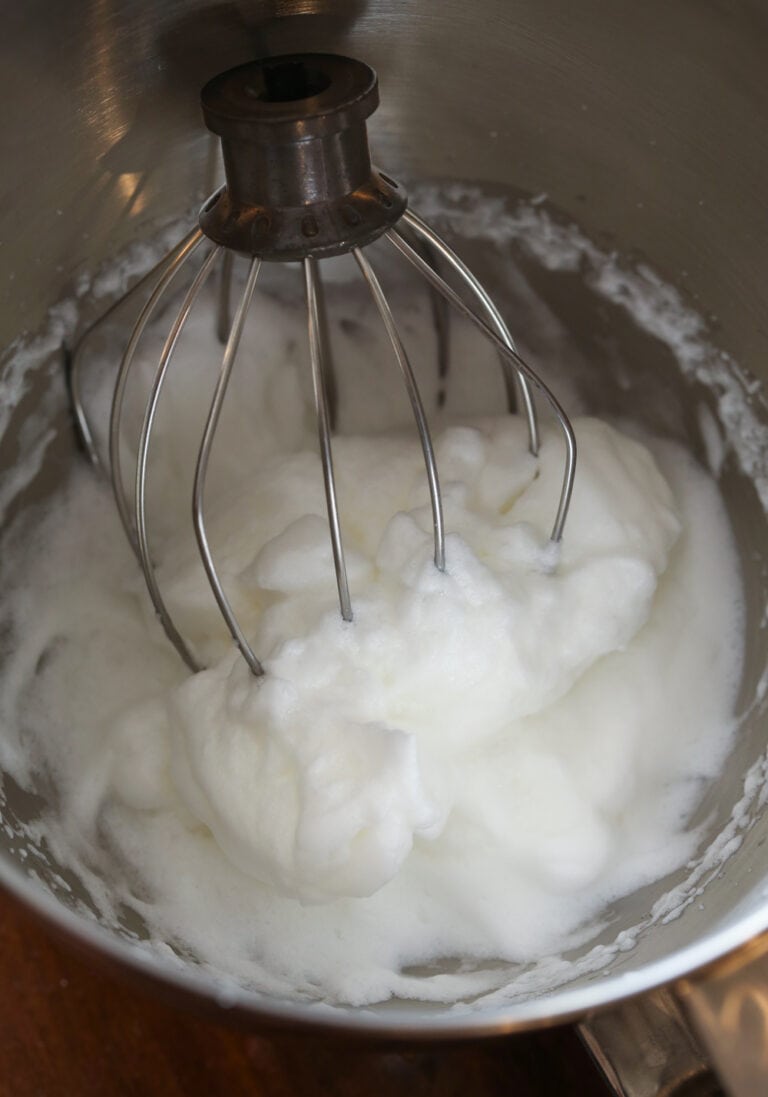 How to Make Divinity Candy
Line Baking Sheet: Line a large baking sheet with parchment or wax paper. Set aside.
Whip Egg Whites: In the bowl of your stand mixer fitted with the whisk attachment, beat the egg whites on high speed until stiff peaks form. Replace the whisk attachment for the paddle attachment and set aside.
Cook Sugar, Corn Syrup & Water: In a medium, heavy bottom saucepan, combine the sugar, corn syrup and water over medium heat. Stir frequently until the mixture comes to a boil. Place a candy thermometer onto the side of the pot and allow to boil without stirring until the mixture reaches 260°F (hard ball stage). This will take 10-15 minutes. The mixture will still be light in color.
Remove from Heat: Remove the mixture from the heat and turn the mixer back onto high speed. Slowly pour in the hot candy mixture in a steady stream until all is added.
Add Vanilla & Mix: Add in the vanilla. Allow this to mix on high for 6-8 minutes, until the mixture is thick and just loses its glossiness and holds its shape. If the mixture doesn't hold its shape when you pull the paddle attachment out, continue mixing until it does. You can also test this by scooping out a spoonful of the candy and placing it on the parchment paper. If it holds into a ball, it's ready.
Add Pecans: Using a wooden spoon or rubber spatula, hand-stir the chopped pecans into the mixture.
Assemble: Drop by heaping tablespoonful onto the lined baking sheet. You can spray your spoon or scoop with nonstick spray to help the mixture come off the spoon easier. Alternatively, you can line an 8×8 pan with parchment, coat it with nonstick spray and spread into the pan using an offset spatula.
Let Set: Allow the candy to set up completely before cutting and/or serving.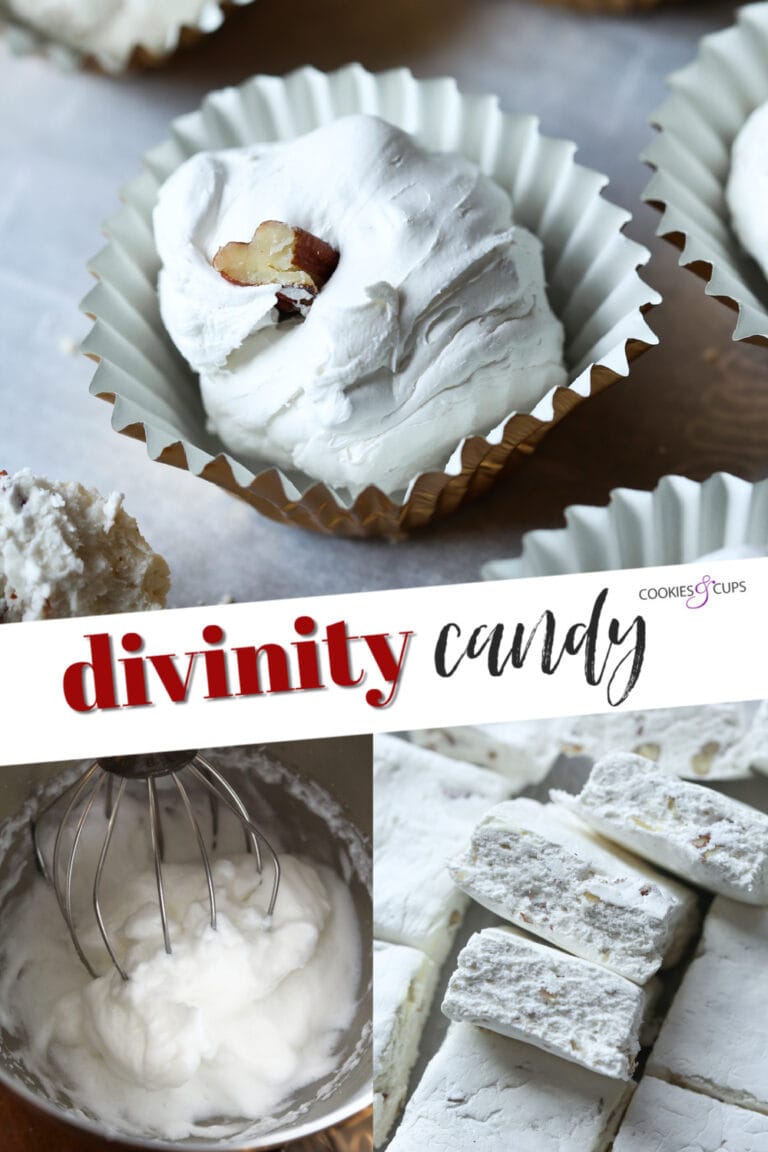 Tips for Success
Whip Egg Whites Until Stiff Peaks Form: Make sure your egg whites are fully whipped before making the sugar mixture for your candy. Beat them on high speed until stiff peaks form.
Dullness Indicates Doneness: Once the mixture loses it's glossiness, check it immediately to see if it will hold its shape. If you overmix it, your candy will become dry. There is a sweet spot right after it stops being glossy.
Don't Store in a Humid Area: This candy is best kept in a cool, dry place. It will become sticky if exposed to humidity.
Try Different Flavors: In addition to adding other nuts or dried fruits to your candy, you can also get creative with the extract you use. Almond, peppermint or coconut would be great!
How to Store Homemade Candy
Divinity candy should be stored, airtight, for up to 5 days. It's best not to expose your candy to humidity. If you want to store your candy long-term, you can keep it in an airtight container in the freezer for up to a month.