Chocolate Covered Cherries – How to Make Cherry Cordials!
These indulgent Chocolate Covered Cherries are quick and easy to make with maraschino cherries and melted chocolate! They're a great everyday treat or perfect for the holiday table!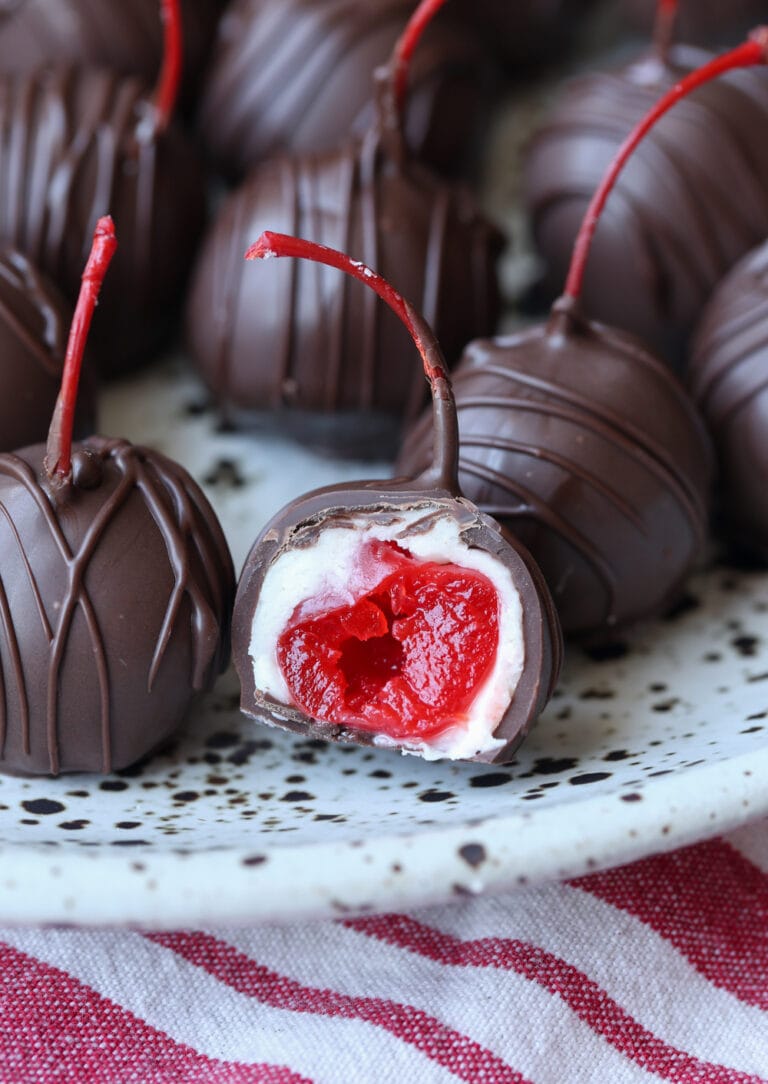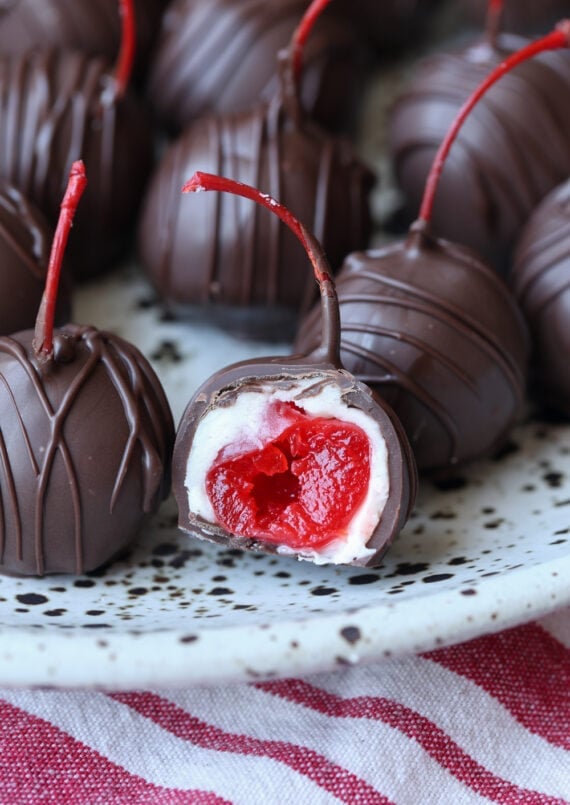 The Easiest Ever Chocolate Covered Cherries!
These chocolate covered cherries are made with 6 simple ingredients. They come together quickly, and you don't even have to touch your stove or oven! I love throwing these together for special treats!
First, the cherries are coated in a 4-ingredient sugar paste. This adds more flavor and allows the chocolate to stick to the cherries with ease. Then, all you have to do is dip them in the melted chocolate and chill them in the fridge! It couldn't be easier to make these decadent chocolate cherries.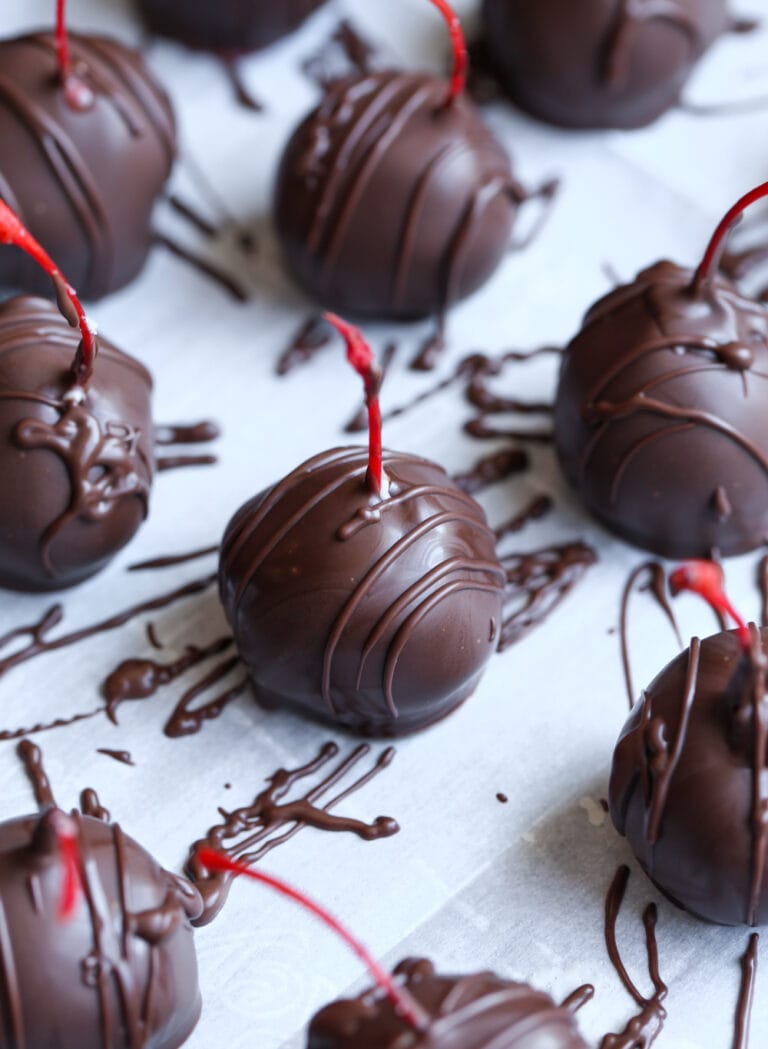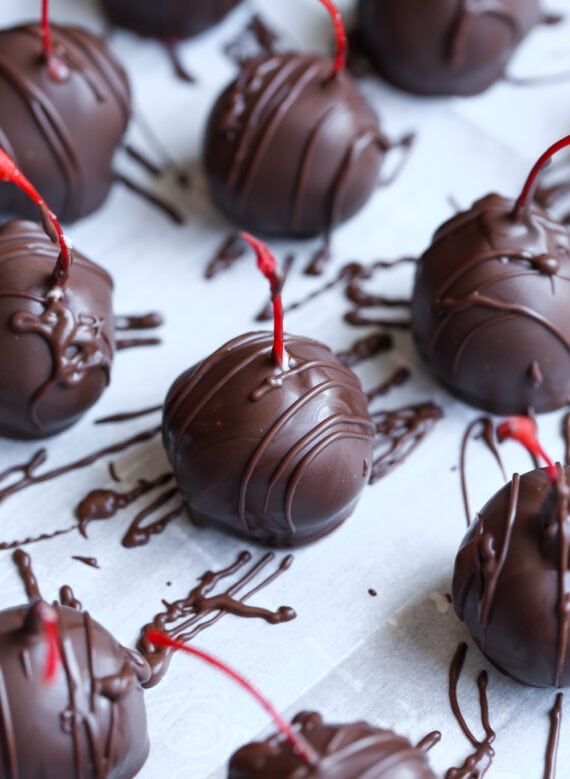 Recipe Ingredients
Powdered Sugar
Butter: Bring your butter to room temperature before using.
Sweetened Condensed Milk
Vanilla Extract: You could also use almond extract, if preferred.
Maraschino Cherries: Drain and dry your cherries well.
Semi-Sweet Chocolate Chips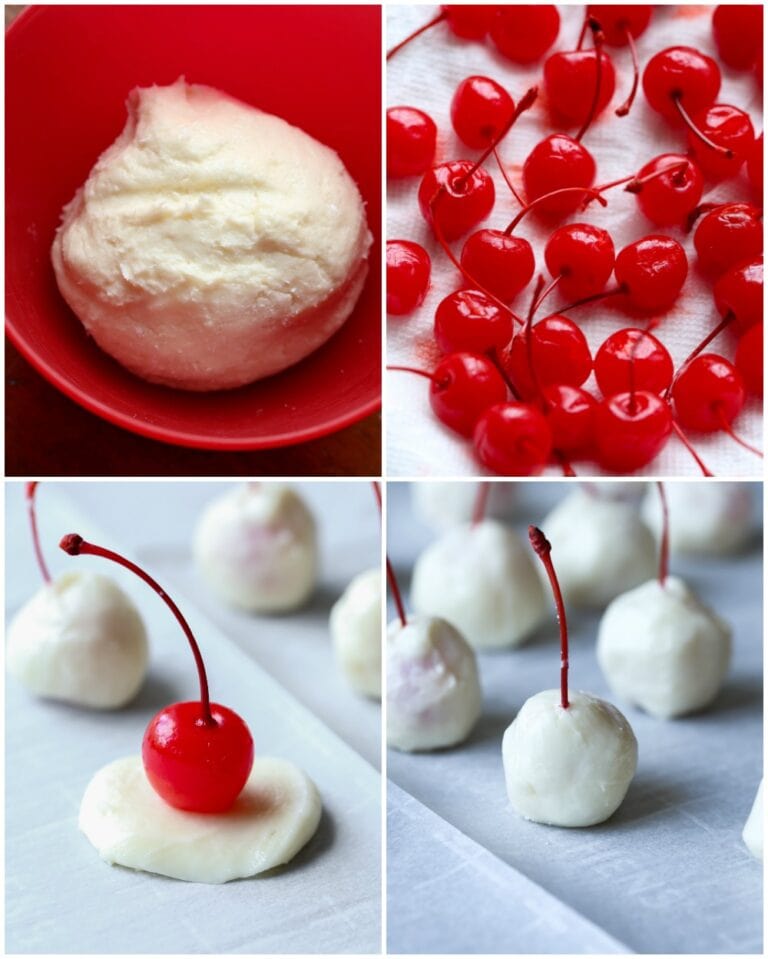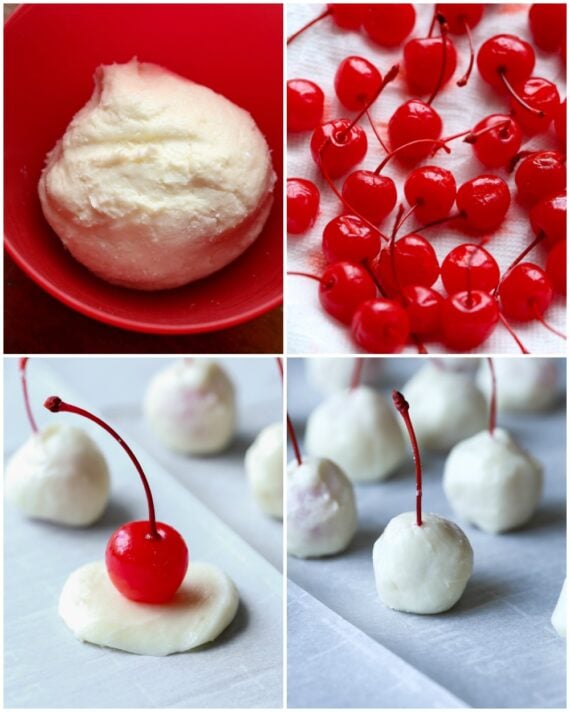 How to Make Chocolate Covered Cherries
Make Sugar Paste: In a large bowl, mix together the powdered sugar, butter, condensed milk and vanilla extract. Using your hands, knead until it forms a thick paste. Refrigerate for an hour, or until firm and cold.
Line Baking Sheet: Line a large baking sheet with parchment or wax paper. Set aside.
Coat Cherries in Sugar Paste: When the sugar mixture is firm, scoop out about 2 teaspoons and form it around each cherry, placing them on the prepared baking sheet. I find that rolling the mixture into a ball and then flattening it into a disk is the easiest way to cover the cherry.
Freeze: Place the baking sheet in the freezer for at least an hour, or until the coated cherries are firm.
Melt Chocolate: When you're ready to assemble, melt the chocolate chips in a microwave-safe bowl in 30 second increments, stirring after each, until melted.
Coat Cherries in Chocolate: Remove the cherries from the freezer and dip them into the melted chocolate, then place them back on the lined baking sheet.
Chill: Refrigerate the cherries for about an hour until the chocolate is set and firm. Serve and enjoy!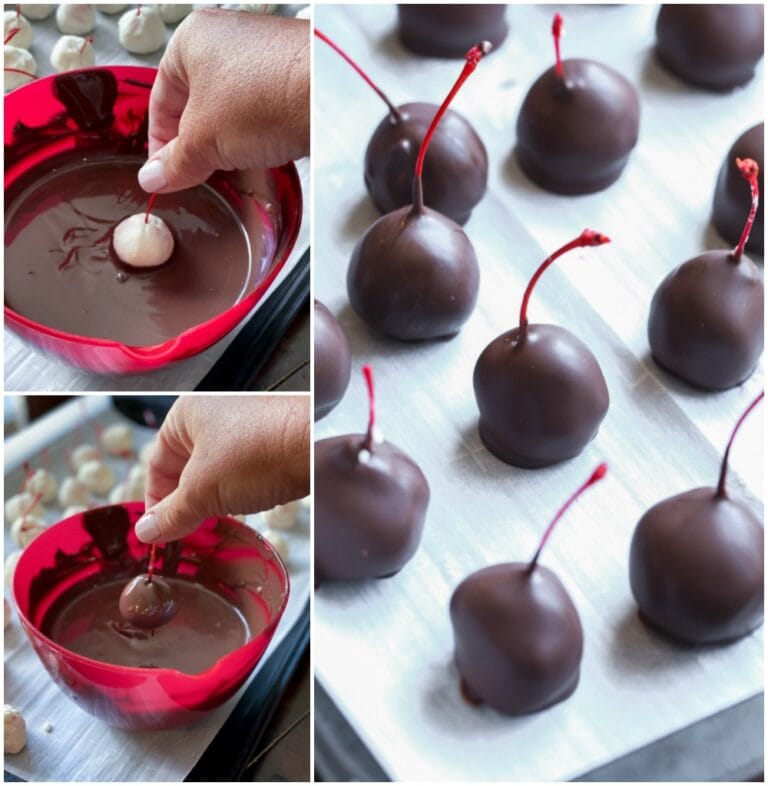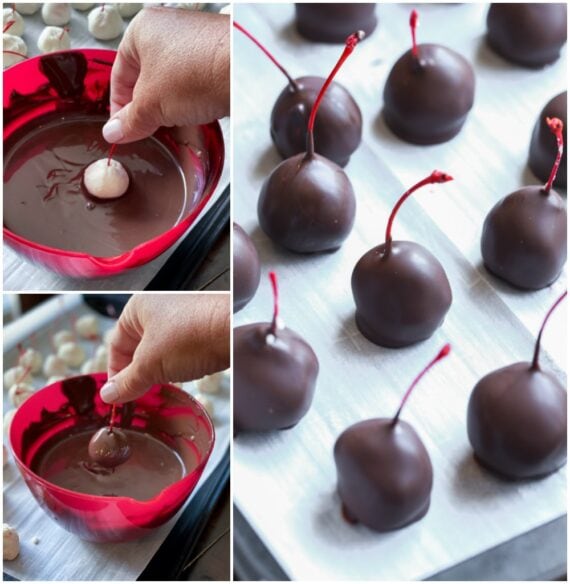 Tips for Success
Drain & Dry Cherries: Make sure your cherries are well drained and dried. I like to drain them and lay them out on a paper towel to dry out while the sugar mixture is chilling. The sugar paste adheres much easier to dry cherries.
Don't Remove Stems: Using cherries with the stems intact makes dipping them into the chocolate much easier!
Thin Out Melted Chocolate if Needed: If your melted chocolate is thicker than you'd like it to be, you can add a bit of shortening to thin it out.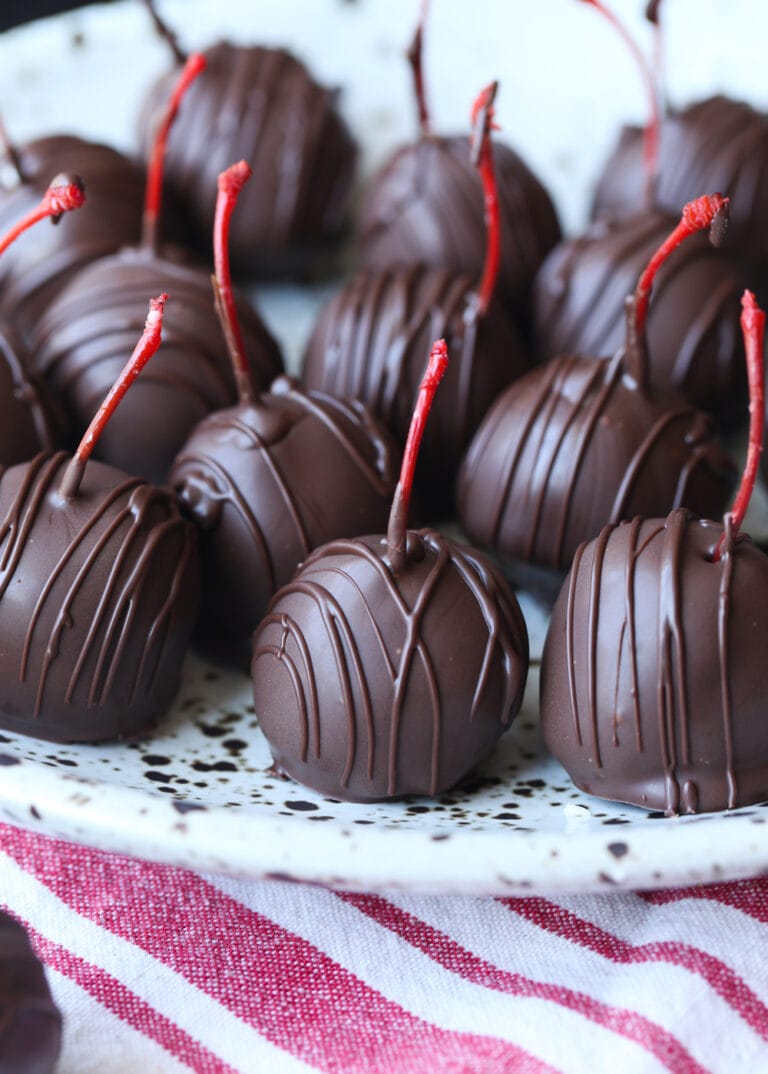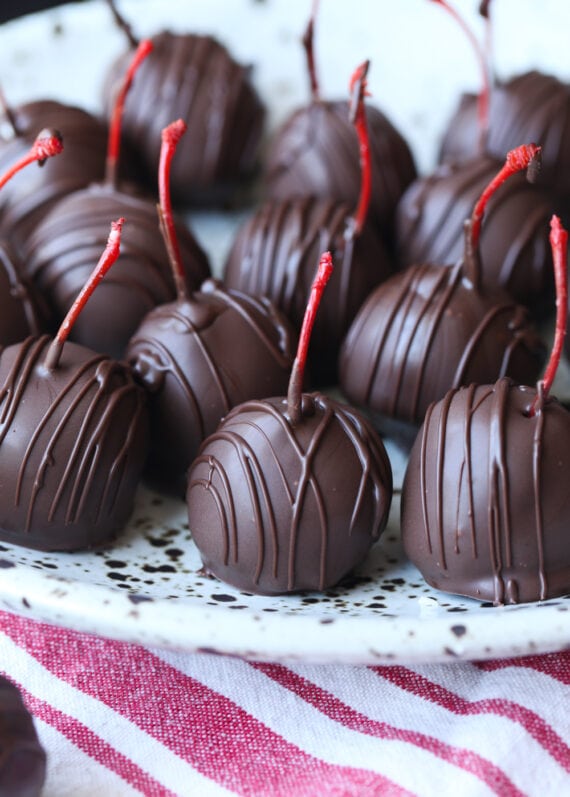 How to Use Chocolate Covered Cherries
These chocolate covered cherries are a tasty and decadent treat on their own. But if you wan't to serve up something extra special, here are some ideas:
Cake Toppers: These cherries make amazing cake toppers! I love putting them on my Easy Homemade Chocolate Cake.
Sundae Toppers: The only thing better than ice cream with a cherry on top is ice cream with a chocolate covered cherry on top!
Pie Toppers: These chocolatey cherries make the perfect garnish for cherry or chocolate pie.
Serve with Coffee: Pair these chocolate covered cherries with a fresh cup of coffee!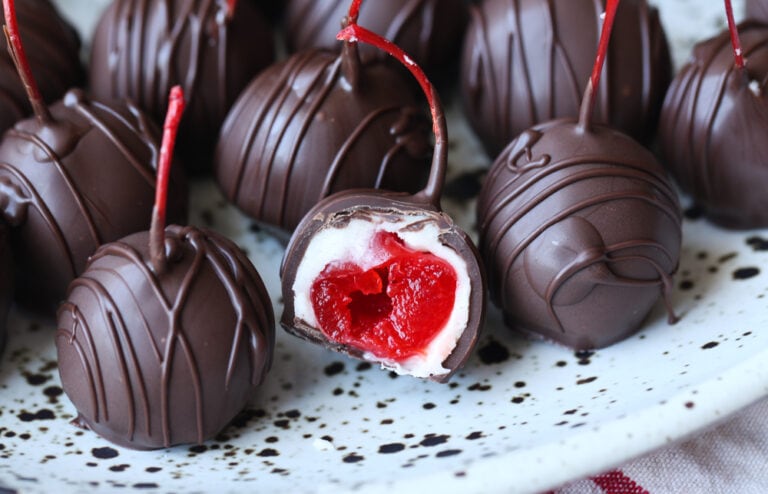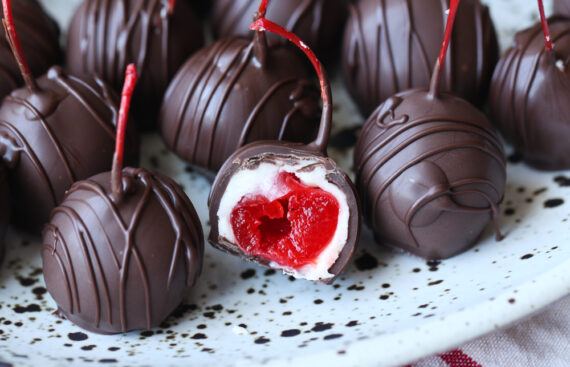 How to Store Chocolate Covered Cherries
Store your chocolate covered cherries in an airtight container at room temperature. Try to keep them in a cool and dry place. Your cherries will last for up to 2 weeks!
After sitting for a few days, the cherries will start to become more gooey. So, if you like chocolate covered cherries with a liquid-y center, this is a great dessert to make in advance!
Can These Be Frozen?
If you freeze your chocolate covered cherries, it's likely that they'll expand in the freezer and can ruin the chocolate coating. For this reason, I don't recommend freezing your cherries. If you want to eat them cold, store them in the fridge instead!